Today the weather has been so cold till now, blocking all the thinking braincells clogged with fog: just posting a travel writeup I wrote for another forum.
Two years ago in May we took a short trip to Netherlands , sply Amsterdam. There are certain places which get embedded in your memory permanently due to their extraordinary beauty.
One of them for me was the visit to "Keukenhof" the sprawling 70 acre flower Gardens, near Lisse in the bulb growing area between Amstredam and The Hague, in Holland. We were travelling through the Tulip growing area of Holland, where we could see acres and acres of neatly arranged different coloured Tulip beds in full bloom, looked like strips of coloured ribbons We were there in early May, to see the flowers in their full beauty. Keuenhof Gardens are open for eight weeks from mid March to mid May each year to showcase the Tulip festival. During this season it attracts visitors from all over the world. The park opens different dates everyyear please do look out in the website for that years opening and entrance prices.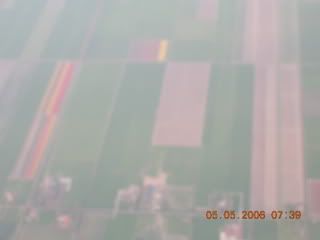 Picture from the Aircraft

The flower garden was the idea in 1949 of the then-mayor of Lisse, a small town south of Amsterdam. The idea was to have a flower exhibit where growers from all over the Netherlands and Europe could show off their hybrids which will help Netherlands as it is the world's largest exporter of flowers. Keukenhof has been the world's largest flower garden for over fifty years.32 acres of the present Park was the part of the estate of a fifteenth century Countess who had her castle of Slot Teylingen, where she was growing herb and vegetables for her kitchen needs. Thus "Keukenhof" literally means "Kitchen Garden".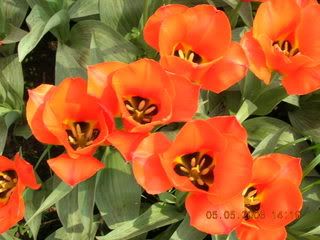 Keukenhof is claimed to be one of the most photographed sites in the world. When we entered the gardens we understood how important it was to have a camera with us.Thanks to my digicam I could take as many photographs as I wished. There were flowers and flowers every where in all hues and colours you could imagine. Though it was started as a showcase for Tulip growers, the garden contains varieties of flowers other than Tulips, like Daffodils, Hyacinths and others, the names of which I could not remember. Luckily we were at the right time when all the flowers were in full bloom. When we started walking on the neatly laidout walk ways shaded by huge trees, in the gardens only we understood how big the garden was. It goes on and on to various sections of flowering plants, interspersed with numerous Greenhouses with special plants and exhibits. In one of them we saw huge collection of butterflies flying. Keukenhof (Court's Kitchen), also known as the Garden of Europe and is the world's largest flower garden.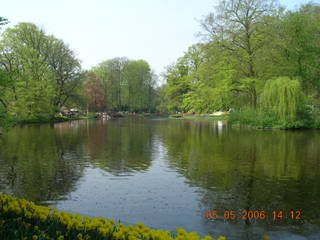 Apart from the Garden Keukenhof has a nice fountain, windmill and lakes surrounded by tall trees and walkways. The beauty of Keukenhof attracts thousands of people all over the world from high and mighty to ordinary people who visit Netherlands during spring season every year. Though we spent almost a full day in this garden, it was highly inadequate for us to cover even half of this wonderful paradise.
It is accessible by bus from the stations of Haarlem or Leiden.The best time to come is in the last half of April, when you're likely to catch everything blooming at once.
The sights are amazing , impact on the eye and nose of overwhelming colur and scent is an unforgettable experience. Japanese cherry trees, azaleas and rhododendrons flower behind the rows of spring bulbs and displays are regularly refreshed with new plantings to ensure a consistently dazzling array.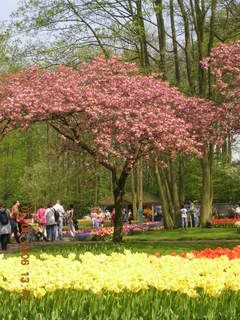 Keukenhof for me is a paradise of flowers,given a chance I would visit it as often as possible. I share a few pictures here .The colours were so bright and my camera could not do full justice to the view my eyes beheld. But yet i did try.Hope I have ignited a desire in you to visit this lovely place.
You can ge more information in the official website www.keukenhof.nl
My trips are never over without my kids adding a new dimension to it... The lake in the centre of the park was so beautiful and people were walking over it.It seemed as though they were really walking ON water. whne we reached closer I got see the metallic plates immersed in water where we could just walk and since they were immeresed .I wanted to walk on it, before I could think of holding them my daugthers had already dashed towards it.... I was just about to ask them pose for a picture when the younger one was no where to be seen...LO!! she had fallen off in the water and elder one struggling to pull her.... it was no deeper than 3 feet but sorry my daughter was just about that at that time.
Sad part was she was drenched thoroughly and we had not dreamt of such a situation and had not brought a change of clothes.Fortunately had a handtowel with which I was drying her and my husband managed to bring a Tshirt from a Souviner store.Now we laugh about that incident and she makes a face whenever we say keukenhof...I dare not post her picture with only that a t shirt on, she would really be upset with that.It wasnt the pleasntest experience for her.
Yet another story to tell tomorrow...