Nomads,,, the one group of people who move around from place to place in search of livelyhood. I named my blog so as I have moved 6 times in the past 12 years making my life a little similar to nomads (only that we are a little well paid nomads).I guess it is true for so many of us now a days....
I intend to just jot down a few lines everyday which makes my nomadic life colourful...Best part of my life are my daugthers who keep my day very lively...let me start with one of the days with them....
"Amma, all others have growth harmone but I have a Shrink harmone... declared my younger one with a sad look on her face......"
I can imagine what made her say that, shew ouldnt be able to reach the parallel bars again today, or not given a housepoint for standing straight in the line simply because her teacher couldnt spot her between all other taller kids... She has always been attention seeking girl,,, but not the tantrum throwing sorts though. Being short isn't her fault... it is manufacturing defect..... what can she do about it?Being shortest in the class isnt the best possible scenario but she is too young to notice the postive side of it.... my reply was ,well lets try to eat some healthy food.... gave me some chance to feed her more vegetables...I was the shortest in my class and I know how irritating it is sometimes....
Genetics was always my favourite subject in college may be I was interested. Dominant genes , recessive genes always fascinated me.So I thought I would sit and explain why it is not her fault to have been short explaining the gene factor of her height.But isnt an 8 year too young understand all this... before I could say much
" I have a headache and I am snack hungry" she pouted....
I made these aloo fritters (named them so to appease her , not sure if it the right name)
she loves potatos in any form but I have to keep changing the items to make it treat to her eyes...kids have made me a person who can cook better than what I used to be.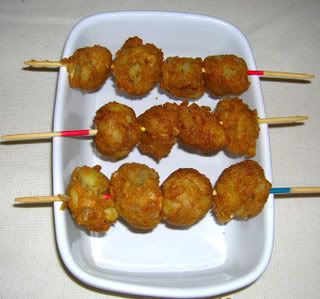 Ingredients:
Boiled potatoes (medium sized -4)
chopped onions - 1 cup
jeera powder - 1 tsp
dhaniya powder - 1 tsp
amchoor - 1tsp
lal mirch or garammasala - 1 tsp
salt to taste
gram flour - 2 - 3tsps
cooking soda a pinch
oil to fry
Peel the potates, mash them and mix with chopped onions , jeera powder, dhaniyapoweder, amchoor , lal mirch, salt .In a frying pan , add oil and allow the oil to heat up.now to the above mixture add the gramflour so that it is quite dry and doesnt have much water .... make small balls and deep fry them...arrange the balls on skewers and serve hot with ketchup.....Kids will enjoy it... you can even make it look beter with some fried panner in between them.... looks great tastes great...
signing off for today....let me know if you tried this recipe and it turned out tasty.