I had not tasted a Wrap till a friend of mine made yummilicious tikka wraps, they were paneer tikka wraps,Iloved the idea of wraps .But then I am not too fond of paneer either, so did not bother to ask the recipe either... after coming here my girls fell in love with a wrap made in Gregg's, who dutifully stopped a few months ago.. That was the only veg wrap which is available around here.....

While walking in the market over the weekend, was wondering what they could eat out other than the usual Pizzas or the bean burger... so decided to make some Wraps myself remembering the filling which was there in Gregg's one... to my astonishment it did turn out really tasty and was very filling as a dinner ...though my elder girl doesn't like to eat Rajma... calling it a red mean bean did the trick. So we came up with the MEANY RED BEANY WRAP...
It is a very tricky nice way of making kids have thier veggie intake without a fuss....



MEAN BEAN WRAP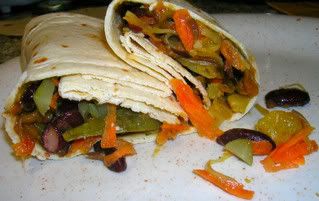 Ingredients:

Tortilla wraps (available in all stores)

Tomato Ketchup

optional:
Green chutney to taste
(I used Natco Bombay sandwich Spread It is quite spicy and tasty, giving me the Indian taste i like in my food)


Filling:

For 8 wraps
1 onion (sliced elongated)
2 carrots (grated thick)
1 capsicum (thin and sliced elongated)
1 Potato (grated thick)
Half cup of sliced cabbage
Few cobs of baby corn... cut into slices
1 can of Red kidney beans or 1 cup of Boiled Red kidney beans (rajma)
fresh cucumbers sliced or Pickled cucumbers (Gherkins)

Spices or Masala used:
Pepper and
Vegeta powder
(I use the VEGETA veg stock powder... it has lovely aroma and helps to hold the mixture...)

I used this powder often in many other dishes too. I got hooked to it while in Romania.... easily found in the Asian stores...If you want then have a look at it in this website.


http://www.vegeta.com.au/
METHOD

In a pan, add a spoon of oil when hot add the half the cut onions and capsicum. When they are sautéed, add cabbages, grated carrot and grated potatoes, baby corn. Add a spoon of the Vegeta powder and close the pan with a lid,after a few minutes add The kidney beans and let it cook for some time'. Turn the heat off after 5 minutes and leave the lid on for the steam to cook the vegetables...

(Cottage cheese pieces can be added as a variation.. my girls like shredded cheese slices also in it)
How to Wrap


On a hot flat girdle (tawa), heat the Tortilla wraps to a reasonable warm heat...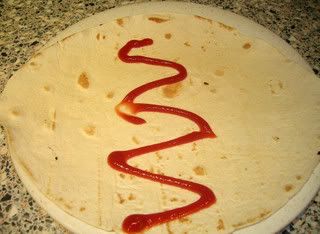 1. place the hot wrap on a serving place and add the sauces and chutneys intended... arrange a layer of above filling in a line in the centre of the wrap... and add the fresh vegetables, gherkin slices and cheese slices.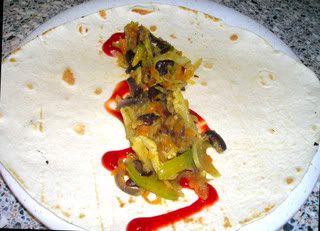 2.fold both the ends of the wrap so that the filling is secured...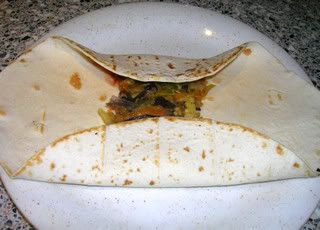 3.roll the wraps from opposite sides overlapping and forming a pocket.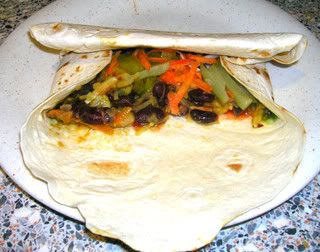 4. Place the rolled on the hot girdle for a few minutes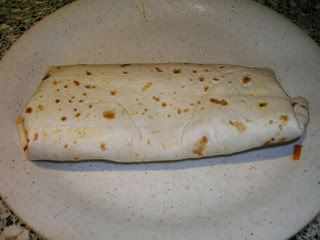 5.Serve hot as whole or cut into two...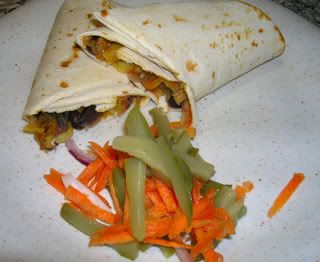 It turns out really tasty, I do make wraps with different vegetables but this was the first I used kidney beans... my sisters keeps saying she fills with some nice Mexican rice... and they are as yummy as burritos,, need to try it out too.....waiting for your comments and feedback...
Enjoy your day friends....