My daughters have amazing energy and are on thier feet all day long.According to my Appaji (father) they are either perpendicular or parallel to the ground, there is no position in their vocabulary as sitting anywhere at all...Which is very true too.. they are always in search on things to do, to say and to move around.. children are supposed to be so anyways...When they get back from school they are ready to devour me if I do not actually give them with some snack or the other.It is not thier fault either.. they do carry quite small quantities in thier lunch box so they are quite hungry , but then within minutes of eating they are ready to get into another activity as though they were never tierd at all.Thankgod they are not finicky and do try anything and eveyrthing and then decide whether they have liked it at all.
This time I decided to make a dish which I had tasted and liked... My friend Vani makes them amazingly delicious.. though I cant make them as yummy I did try my own way through it.....
It came out well and since it is easier to make I thought you all might as well try it out.
MINI PIZZAS
Ingredients:
1 baugette roll or 10 bread slices
2 spoons of all purpose flour(Maida)
1 cup milk
2 spoons cornflour
1 onion - chopped finley
1 capsicum - chopped finely
1 cup - chopped beans, carrots, peas and corn mixed
salt to taste
oil - 1 tsp
Powdered pepper to taste.
Butter to smear
Grated cheese (I use strips of cheese slices when I dont have grated cheese)
Method:
In a pan heat the oil add the chopped onions and capsicum when it is done add the vegetables ,add some salt... let it steam cook by covering the pan. In the cup of milk mix the flour and add it the cooked vegetables...I when it is quite thick add the cornflour(mixed with half a cup cold water) .Keep stirring till it gets to the consistency of a thick paste.Add pepper powder and
Cut the baugette into thin slices and if you are using bread cut the bread slices into 4 squares each . smear the slices with butter .Top the slices with on spoon the above mixture like a scoop,sprinkle some grated cheese.top the tip with piece of coloured bell pepper(capsicum).Grill them at max temperature for about 10 minutes till the cheese gets to a golden brown colour.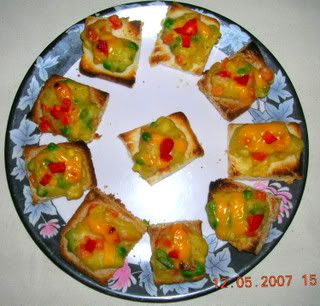 Hot mini pizzas are ready to be served .Enjoy them with some tomato ketchup. And Phew!!! my girls liked it I survived the litmus test should say......
will be back soon with another dish... thanks for all who have been supporting me.