"On the whole, WELCOME is a fun ride all the way. The tremendous hype for the film has resulted in a tremendous start at the ticket window and the 5-day weekend as also the lack of biggies in the subsequent weeks will help WELCOME reach the 'Smash Hit' status in days to come".

This was the review on the BOLLYWOOD HUNGAMA site and a feedback that it was good that made us watch the movie WELCOME over the weekend. The movie did start of well but It was pure torture to say within half an hour's time... I knew it would be brainless comedy but not in such a silly way. The whole movie went really crazy and even the locked brains in the house bled badly I felt.God , what a movie!!! even though I feel bad for all the actors who put in time and hardwork.. I would not recommend to anyone other than as punishment.
The director tries to pull every possible string to make us laugh, and to make it hilarious but fails so badly... It was the worst I have seen in a long time... specially
After seeing movies like Taare Zameen par; this was a like rotten egg.

I wish I had read this review in Apun ka choice before seeing the movie.
"Exit from the hall at the end of the movie was the better part of watching 'Welcome', director Anees Bazmee's latest comedy film. The movie falls way short of expectations. To see 'the end' of Bazmee's film was a welcome relief for me. And when the movie's after-effects faded away, I felt my sense of humour returning back".
I am really not sure if anyone has liked it at all.. if you are one who has liked this movie, please take that this opinion is only mine... you are entitled to yours...

Kodubale,( spicy and tasty rings):


The best part of all this was the snack I had made that day and that it was a DVD which we saw and did not pay thru the nose to see in a theatre. And to tell u the truth we all concentrated more on the Kodubale (spicy rings made out of Rice flour....) I had tried them quite a few times but always they were a failure, something or other hard sometimes and sometimes real soft.... different recipes from as many food recipes I could handle... finally a recipe from a friend in Mysore (Lalita).Kids enjoyed as much as we did, though it was spicy for their taste. No one can
They turned our exceptionally good and made the Saturday great inspite of seeing Welcome!!!!!!!!!

This is one of the snacks very popular in other parts of South India. It is fairly easy to prepare, but needs some patience and little effort to get it right. The name KoduBale, is as the thing looks like a bangle(BaLe) with a Horn (Kodu) in kannada...Kodubale.They seem very similar to the onion rings found in Burger king.

Kasigondu Kodubale, is a very popular line in kannada meaning one for a penny... similar to the line , one a penny two a penny hot cross buns.


Ingredients

2 cup Rice flour (slightly coarse, gives more crispy touch)
1/2 cup ground Dry roasted Gram dal (hurigadale/phutana/chutney dal)
1 spoon Red chilli powder
2 spoon Jeer (cumin seeds)
A pinch of Hing (asafoetida)
A pinch of baking soda
Dried & crushed curry leaves
2spoon White sesame seeds
Handful crushed (roasted) peanuts
1 cup melted Butter
Salt to taste
Oil to fry
(3 spoons of grated coconut- Optional)


Method
Mix the rice flour, red chilli powder, salt, butter and all the above ingredients in the dry form. Knead with palm to ensure that butter gets uniformly mixed in the dry flour. Make thick dough using very little water. The dough has to be little thicker than puri dough. Rice flour sticks well
enough and is not gluey as wheat flour.



(The proper method is not to mix water to the flour all at once, but to sprinkle, enough to make a handful of wet dough at a time, finish that and proceed again. )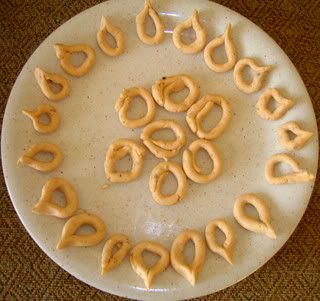 In a big Kadai (pan) place the oil for heating.
Take a lemon sized ball and start rolling on a flat area, kitchen board.
The consistency should be sufficient to roll, gently roll to a long rod (the consistency of the dough is very important here... so if it is too dry sprinkle some water to make it pliable)
Roll the dough to the thickness of about the little finger on the hand.
When the rolled rod becomes few inches long, slowly turn around the ends, join them to form a circle (like a bangle).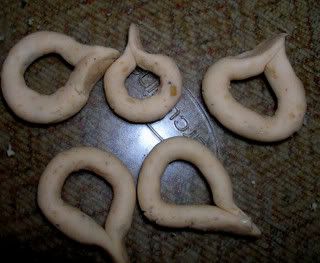 The correct consistency is that at the points of bending, small cracks may appear, but the roll will not break.Put in 5 to 6 Kodubale at a time and deep fry slowly till brown.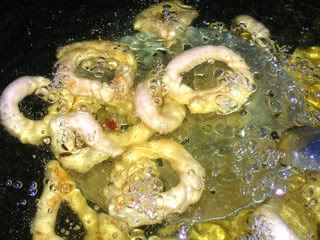 To test consistency, break one after cooling; it must be crispy with crumbs at the centre.
The Kodubale, can be stored for a month or more in airtight boxes, making them excellent snacks for lunchbox.


Yummy , Crunchy kodubale's are ready to savour and devour....

To add to the taste many people fry dry red chillies in oil, and crush them to get a traditional taste instead of red chilli powder.
Using coconut water gives a great taste (instead of using water) while mixing.
Hot oil instead of butter is a possibility but reduces the taste.
Fresh coconut gives a better taste than desiccated coconut.

I am sure you will try this and enjoy.Let me know how you liked them..ciao..