Walking kids to the school is the everyday routine of mine.I enjoy it very much , fresh air in the morning does good isn't it? The other day wasn't any different… walking down the alley I was listening to the non-stop chatter of my girls. Elder one said, thank god today is Tuesday and it is not a three some day. I didn't understand her statement and asked to explain. She did and it left me stunned.

The whole situation is so... We keep moving children with us in the name of job, location, relocation what not, putting them into the real tough moments of adjusting to the new place, new school and making new friends... My elder daughter Shriya was finding it tough to adjust in class 4, especially in a British School where all the kids had started their school from Nursery together. For her to break the group and enter but she managed to make friends with three girls and slowly found herself enjoying with those three girls who are all British. Lets say they are A, B and C out of which the girl C is a little older and a little dominating and the these three younger ones love to idolise. All of going very well .I was glad girls were settling into it now ,until the last two weeks where they started having threesome days where in Shriya wasn't a part of their weekly activities for three days a week.Only the three of them would be to themselves.
So now she was glad it was not a threesome day and she got to hang around with the ABC. I reacted really sharp and said , why don't u leave them, why don't u make new friends.. Why is it that you have to hang around only with them/If they don't want you why would you want them (In my mind I was really raging with fury thinking that they were pushing her out because of her colour… God!!!! What all was going through my mind) .do you want me to talk to them or you teacher I asked her almost shouting .I think I really over reacted with my daughters confession and she was taken aback..
"Well amma, I cannot stay away from them now you know... it is so tough to be alone again... I spent the first whole month alone... No amma if they don't want me for a few days in a week, what is the problem... I don't think it is wrong. It is fair they are friends from a long time"she said in a quite firm voice.I could not answer anything, but to just think why I was reacting…
Came home spoke to my husband… was almost in tears about moving the girls so much and not actually giving them nice base and group to grow with , but was consoled by him to just keep calm and if she is happy we should be fine.
I had gone through a little of being alone , and not fitting into any of the groups of other students into eh class who were either in the groups of beauty, brawns or brains.. Now I did not have neither of the three. It was not until 8th standard that I had my own group of 5 including me. I am in touch with two still and would love to get in touch with two again. Slowly as the day passed by I just left it at that. Took it easy seeing her happy…
On Thursday, A's mom asked me if Shriya could join the girls party on Friday evening. And I took the chance and said; well you know they have been a little aloof form Shriya this week. Does u think they will like to have her in the party ((how smart of me to voice my concern in such a way? Isn't it?)) She said, well I knew this was coming up... You know they are making a friendship poster for Shriya and did not want her to know, this is going on for two weeks. So don't worry about that. They plan to give it to her in tomorrow's party. It brought such glee to me to think I was the one who was overreacting where as there wasn't any cause to think so much at all..We adults think too much and make things complicated by our real reading between lines and putting out experience in the situation. The agony I went through for a few days was too much.

This is the poster they made... It took them two weeks and so much effort…. now it is going up the wall in Shriya's as a constant reminder of their friendship and my silly mind.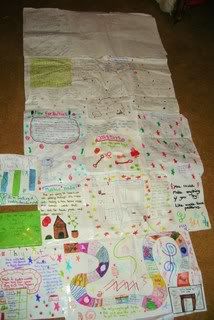 My question remains though
Why do we adults react so fast and so much?????why do we attribute motives to every word and every action? Any answers there? help is appreciated.