SANKRANTI, this important day marks the commencement of the Sun's northern course in the Heavens, known as the Uttaraayana patha. This turn in the Sun's course takes place at the point of time when it enters the sign of Makara or Capricorn.This is the only festival in Hindu calendar that follows a solar calendar and is celebrated on the fourteenth of January every year (all other Hindu festivals are computed using the lunar calendar .
Sankranti is the first festival of the year, bringing in the memories of childhood every year... I grew up in my Ajji , tata (grandparents) house,, and the festive arrangements began almost 15 days ahead, with the selection of whitest of sesame.. Bili yellu, nylon yellu,( idu kappu idu brown) not brown, not black , good quality sesame/til.So much of deliberation and pondering before buying the best rounded groundnuts, best of gram dhal (phutana/hurigadle).Back then it felt like a chore ,but on hindsight now I feel it was such a family quality time spent with all the cousins around making noise and bonding together... my girls are missing on all that fun.The wonderful bit of sankranti is making the sugar moulds and distributing them to houses of friends and family .What a great way of maintaining relations with all the strain and pressure it takes all round the year. The yellu- bella suggests the jist of the whole festival... sesame with jaggery is given with the wish of speaking good all round the year. yellu bella tindu olle matadu (meaning speak sweet as jaggery)
The euphoria of dressing up in great
zari langa
(silk lehenga) and running round like princess and as though the whole responsibility was ours was such a booster to the small tiny ego....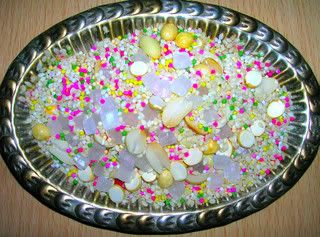 The plates ready for distribution had a piece of sugarcane, fruits ( two bananas or apple or orange) one sugar mould , sakkare acchu and the packet of Yellu Bella. I have taken it on myself to make the yellu bella at home , but unfortunately could not master the art of making the Sakkare acchu... My aunt makes them excellent and hoping to post the method and some pictures which she promises to send soon.
The festive menu on sankranti have a few musts and they are Sweet pongal and Yellu Holige,This year I just made the sweet pongal , chana usli and Chitranna.
SIHI PONGAL
This famous south Indian, Sankranthi sweet, is traditionally made with freshly harvested rice. Though simple to make it is amazing in taste, the ordinary rice becomes mouth wateringly extraordinary. In sweet pongal, rice soaks up the milk, absorbs the jaggery, picks up the cardamom scent and takes up the generously added moong dal, cashews and golden raisins. And in this new avatar, becomes an offering to the Gods (naivedya)and also simply irresistibly tasty.
I follow the recipe which I have taken from my Sister in law who is an excellent cook, to be frank half the items I cook, have learnt from her.Her Method is neat and easy and the end result is always like the prasadam offering of temples. Jaggery is the traditional sweetener of sweet pongal simply because it tastes better than when made with sugar.
Sweet pongal is like a rice-dal porridge, consistency must be a little thick and sticky.
INGREDIENTS

1 cup of rice
½ cup of yellow moong dal (Hesaru bele)
1 to 1½ cups of powdered jaggery - sweet can be to your taste
¼ cup each of cashews and golden raisins
¼ cup of melted ghee
4 cardamom pods, skins removed and seeds powdered finely
3 cups each of milk and water
( I use some grated copra for extra taste)
METHOD

Heat one teaspoon of ghee in a kadai or pan.Add and roast yellow moong dal until they turn from yellow to reddish pink in colour. Do not wait till they get brown, that's too much roasting. remove them into a plate..
Heat three teaspoons of ghee in the same skillet, roast cashews and golden raisins till they turn light gold in colour. Remove and keep them aside.
In a pressure cooker take rice and roasted moong dal, add water and milk, stir once and cook.
Jaggery and water: Meanwhile, in a heavy bottomed vessel add powdered jaggery and one cup of water, stir and cook them till jaggery melts for at least 10 minutes on high heat. Turn off the heat after 10 minutes and allow the jaggery solution to cool little bit. (Jaggery is added separately as it cannot be added with raw and uncooked rice.. then rice wouldnt cook well.)
Add the cooked rice-dal mixture to the jaggery syrup. Keep the heat on medium; add the ghee and cardamom powder. keep stirring in a simmer mode till the whole thing gets to a sticky thick and deliciously semlling pudding .. Switch off the heat. Cover and let it sit for 10-15 minutes. Sweet pongal thickens further on cooling. Garnish with nuts and grated copra....
Serve hot with a dash of ghee
KOSAMBARI

This Kosambari , is basically the same type I have posted earlier with moong dal only that I made it mostly with Chana dal this time. On a festive occassion we are not supposed to make only of one dal so just managed to sprinkle a little moong dal too.the recipe remains the same , instead of Carrot I used finely chopped cucumber. Using both is also as delicious.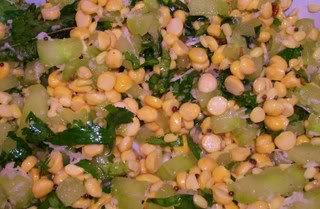 Ingredients
1 cup chana dal (Bengal Gram)
1 cup finely chopped cucumber
1 cup freshly grated coconut
1 green chilly finely chopped
2tbsp finely chopped coriander leaves
1 inch ginger finely chopped
1 spoon oil, a few curry leaves
1 tbsp mustard seeds
1 tbsp lemon juice
salt to taste
Method: Soak the Chana dal for a minimum of 4 to 5 hours. Add it with cucumber, coconut , ginger and coriander. Heat the oil and let the mustard splutter.. add curry leaves, green chillies and mix with the chana dal... add lemon juice and salt to taste...
Hara chana USLI...

INGREDIENTS
1 cup dry Hara Chana
2 tbsp oil
1 inch ginger and
2 green chillies finely chopped
1gm asafoetida
Lemon juice
1/2 cup grated coconut
chopped coriander and salt to taste
METHOD
Soak the hara chana ( hasiru kadlekalu) overnight. Drain and cook in the pressure cooker with a pinch of salt and turmeric powder.Heat oil, add mustard seeds, when they splutter add chopped ginger, green chilli, and saute for 2 minutes. Add hara channa and cook until done. Add lemon juice, chopped coriander and freshly grated coconut . Garnish with chopped coriander and serve hot with some some cucumber slices...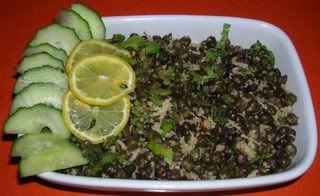 Had a few friends over for lunch yesterday.. The chana usli was delicious .
Ciao, friends.Try a few of these and let me know.....
,