Okra (the angrezi name of our own lady's finger /Bhindi/Bendekayi) , the one vegetable I never thought I would miss ever in my life time..But seems like leaving it back in homeland has made me okra - lover. My grandfather had a notion that when if you eat fresh bhindi , a very tender one it helps to get the brain sharper in maths,.( I never ate, I am very bad at maths... so guess his theory is true!!!!!!!!)
It was not in my favourite list, to say so not even edible list before I started living in Romania...This beautiful country as any other European country mainly survives on potatoes...As I browsed to the market without knowing the languages and managing with sign language to buy the vegetables I wanted , my eyes went wide seeing the Okra pods there..They were a little smaller , like shorter ones but who cares after eating only Cabbage, Potatoes and Carrots for two odd months I was ready to grab whatever other vegetable was available in that store.
It was a little disastrous try with that lot as it was too small , too pricky and understood that they just boil it with some onions and tomatoes for their dish so it becoming glutinous did not matter . It was called Bama in Romanian ... Slowly when summer arrived the vegetables arrived in market and I did find my kind of Okras finally and with all that effort it had gained a privileged corner for itself in my food list. Enjoyed the tender bame/okras as long as we stayed. Here in UK it is easily available so tried as many dishes with it Bhindi fry, Sambar, normal sabzi with coconut but the favourite remains Gojju, which can be delicious with Rice or Chapati, which is OKRAS IN A SPICY COCONUT GRAVY.
Todays dish is BENDEKAYI GOJJU/ OKRA IN SPICY GRAVY

Ingredients:
1/2 kg Okra.
2 tbsp Urad dal ( black gram dal)
4 Dry red chillies
1 pinch asafoetida
1 tbsp of raw rice
small piece of cinnamon
1/2 tbsp cumin seeds (jeera)
1/2 cup grated coconut
two sprigs of curry leaves
1/2 spoon of turmeric
1/2 cup tamarind juice ( if using concentrate then 1/2 tbsp).
3 to 4 tbsp of Oil and
salt to taste
Method:
Dry roast Uraddal, dry red chillies, asafoetida, cinnamon,raw rice, cumin seeds,curry leaves and grated coconut and grind to a smooth paste with some water. Keep aside.
Wash, wipe the Okras clean and cut them into half inch pieces . In a pan add two spoons oil and roast the Okra pieces till it gives out aroma.. Take care that the okras are dry or else it might give a slimy , glutinous substance might spoil the look and taste of the dish.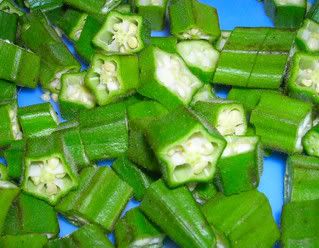 When the okras are done they are tender , now add salt turmeric and the ground paste with two cups of water.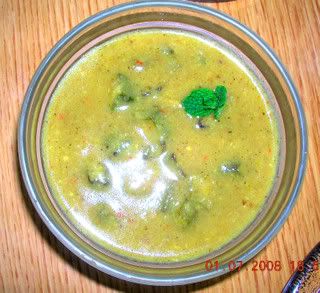 Season with mustard seeds,and curry leaves.
I am sure this will be on your list too sooner or later.
Pa

pentru

astazi

... (bye for today in Romanian).