A few days ago,when I had guests I made Idli sambar.Though it is a complete meal by itself, I made medu vada to go with it... The Idli - vada combination has always been my favourite meals at places like Saravana Bhavan or the Darshinis of Mysore and Bangalore.
Even in the age where people preferred to eat pizzas and french fries, for me Idli - vada combo remains a must in the menu. During college days eating small meduvadas at the college canteen was such a pleasure. Then end the snacking with very hot filter coffee.. yummy gone are those days I guess. I don't see people eating vadas or pakodas on roads anymore... it has been seriously replaced by noodles and gobimanchuri .. , MacDonald's and pizza huts. are changing the way our kids eat,,,the way they are penetrating the Indian market.



MEDUVADA

These lovely meduvadas are full of proteins with Black gram Dal as the main ingredients and of course is high calorie diet as it is deep fried.It is delicious when served with Sambar known as Sambar vada or can be dipped in Curds/yogurt to make Tairode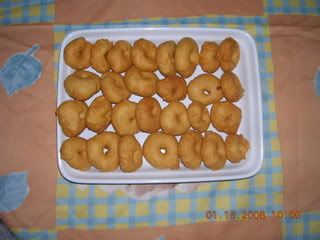 Ingredients
1 cup: Urad dal ( uddina bele)
1 big piece: Ginger (finely chopped or grated)
1/2 tsp: Pepper corns
few finely chopped fresh coconut pieces
1 tsp: Hing
1/2 tsp cumin seeds
A few: Curry leaves
Oil to fry
Salt to taste

Method
Soak the urad dal in water for an two to three hours.Grind to a paste with as little water as possible.
Mix all other ingredients except oil.Heat oil in deep pan for deep frying.
Take a bowl of water and slowly take small ball on the palm smearing your hand with water... make a small hole in the middle and deep fry on both sides till brown.
Remove from oil onto a tissue paper to drain the excess oil, Serve hot with Sambar/chutney

TAIRODE

The Vadas can either be served with sambar or made as Dahivadas known as Tariode in South (Tair in Tamil being Curds/yogurt)
The vadas are dipped in some flavoured and seasoned curds and Tairode is ready
The Curds is beaten well to make a homogeneous mixture. Make a paste of some fresh cumin, coriander, freshly grated coconut and salt. Add this to the curds and then soak the fried Meduvadas.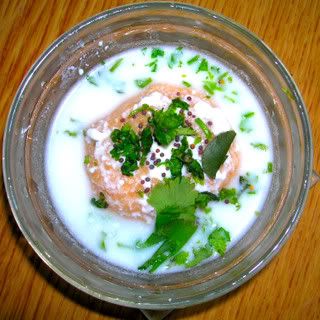 In a small pan add half a spoon oil,when it is hot add some mustard seeds when they splutter add some curry leaves and asafoetida. Garnish this on the Dahivadas and serve chilled.

I am sure you all will enjoy this dish as much as I did with my family and guests loved it too.