I am a tea person... with tea I like snacking a bit ( does not help with my weight control anyway).I have always been a plump person , fondly termed as 'khaate peete ghar ki ladki by my dad. Pakodas, samosa, chat items anything deep fried, unhealthy oily dish and I am for it.
Of late have discovered the traditional snacks of Karnataka (to say so they are low in fat but quite high in calories but always better than french fries and crisps) and started making them regularly, it was revealing to me that kids did like them and asked me to try many more dishes.I expected them to say... no not these but then they were eagar to try more dishes.Good for me now I do try many more dishes of course from all parts of world and once they turn out right... never make them again. .
My favourite tea time snack typical of Karnataka is Gojjavalakki... made of poha or rice flakes. It can as much be translated as tamarind poha. It is delicious and filling too. Easy to make this dish can be really a family favourite soon.
GOJJAVALAKKI:
Poha : 3 cups
Tamarind : ball of lemon size
Rasam powder : 2 tbsp
Jaggery : 2 tbsp
pinch of asafoetida
salt to taste
dessicated /grated coconut : half a cup
For seasoning
Oil
Groundnuts
mustard seeds
cumin seeds
curry leaves
Dry red chillies
chana dal( bengal gram)
urad dal ( dehusked black gram )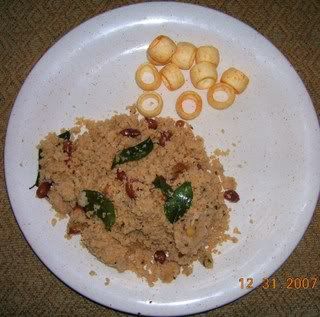 Method:
Grind the poha /thick rice flakes coarsely in a mixer grinder. almost to coarse semolina consistency. Soak the tamarind in three cups of water for half an hour.squeeze the juice into a large bowl and add the rasam powder, jaggery , asafoetida and salt. Soak the ground poha in it for two to three hours till the flakes absorb every drop of the tamarind juice and look dry.
In a large kadai (pan) heat three spoons of oil.When the oil is hot pop the mustard seeds, add cumin seeds, Chana dal, urad dal, red chillies and curry leaves. When done add the above soaked poha in the seasoning , fry till it mixes with the seasoning thoroughly and add some dessicated coconut and salt to taste....
Serve hot with some fryums/papad/ ( akki sandige to be precise).