Typical Karnataka dish series is really shaping up now... with poori sagu coming into the picture .Typically at my parents place we would have it Thursday evenings or Saturday evenings when we had the fast of not eating the traditional rice meals.It was such a treat to be eating puri and aloo, or puri sagu.
I however enjoy it with hot and puffed puri's. Puri's are always a hot favourite with kids. and making them is fun .... thought for oily food, weight gain , fat, obese all these run away miles from my mind when I see puri's and so very often make them.I looked on the web and saw so many recipes but none of them seemed to match with each other.
I happened to see the programme of Worlds heaviest woman and the programme said that 200,000 people in America are overweight , and above 40 stone limit ( 1 stone is roughly 6.350 something kilograms) doing the math average weight of each of these persons would be above 200 kilos... no wonder I should not see such programmes with PURI's in front of me... But with such delicious dish in front of me, Who cares!!! yaha kal kya ho kisne jaana?So friends , try cook and enjoy this tasty dish.
Poori - Sagu:
Sagu is traditionally dish with vegetables and spicy coconut gravy. I use very few vegetables in sagu as did my mother - in - law , however my mom used quite a few other vegetables like capsicum, cauliflower in it and it would taste as good.
Ingredients for the masala
1/2 cup grated coconut,
3-4 green chillies,
2 tbsp phutana(roasted chana dal/chutney dal),
2 tsp soaked raw rice,
1 tbsp cumin seeds
few coriander leaves
few mint leaves,Curry leaves,
salt to taste,
1" cinnamon,
2 cloves
2 tbsp soaked poppy seeds
few peppercorns
Method:
Grind all these ingredients together to a smooth paste with little water and set aside.
Steam 2 cubed Carrots,1/2 cup sliced and finely chopped green beans, 1 cup cubed potatos , 2 cup chayotes (seeme badnekayi or chow chow)1 cup frozen or fresh Green peas
In a pan add oil when it is hot add some mustard seeds, cumin , dry red chillies curry leaves for aroma..., add the cooked vegetables and the ground paste and let it cook.Please do take care and add water since the sagu thickens very fast and gets thicker as it gets colder.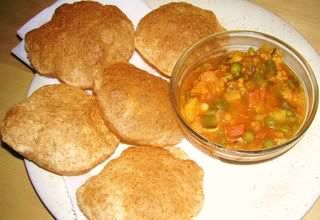 Poori:
I am sure many reading here surely know how to make puris.. I am just putting down my way of doing it.. I enjoy my puris very puffy so intend to keep them so till I get to the dining table which is at the end of the last puris..
Ingredients:
3 cups wheat flour (atta)
1/2 cup fine sooji ( fine semolina)
1 cup milk
salt to taste
water to knead
oil to fry
Method:
Mix atta , sooji, milk, salt with enough water to make a thick pliable dough.
In a kadai (pan) heat enough oil to deep fry the puris.
Take small balls of the kneaded dough and roll out to small flat round puris
Deep fry and enjoy them with the sagu.
It is heavenly I assure you.The sagu in this photo looks a little reddish becasue of the yellow light bulb in our house.It is usually quite lovely green in colour. Hoping I will add a nicer picture soon.
thats the tasty bye bye from me today.