Creativity????whats that???After children are born the creativity in the parents dictionary is the talent how to fold the nappies so that they do not leak, how to fit in every possible thing in the baby bag,how to manage time between feeds and washes, how to feed without a fuss by the baby and then when they start growing how to make them eat without frowning or going hmmmmmmmmmmmmmmmm over it...
My creativity was purely out of necessity to make the food look great.... one such is Number dosa . Dosas made of normal batter but in the shapes of their years.... and some point of time I got them eat the normal ones in the name of Zero dosa. Smart of me!!!!! don't you think...
Born Brought up in South India .... Dosa is a integral part of the menu , either as breakfast or a snack or dinner . When out of India I actually had to tell people that there is more to South Indian food than Idli,Vada and Dosa and started cooking all kinds of different food items show them and reassure myself!But Dosa undisputedly remains the all time favourite of every child and adult.... very few dislike it.My personal favourite being Rava dosa, the thin crisp... yummylicious ( my elder daughter's ultimate compliment) , relatively simple than other dosas this dosa heavily relies on technique...
Rava Dosa:
This dosa is made of very fine Rava( sooji, semolina, obbattu rave ) and rice flour.
Ingredients:
Rava 1 cup
rice flour 3/4 cup
Curds/yogurt - 1 spoon
Finely chopped onions
finely chopped green chillies
finely chopped coriander
Mustard seeds 1 1 tsp
Asafoetida - a pinch
Baking soda (optional - 1 pinch)
oil
salt to taste.
Method:
Mix the Rava , Rice flour, curds,chopped coriander and salt with one cup of water and let it for 5 minutes..In a small pan add a spoon of oil . When it is hot add mustard seeds, hing, chopped onions, chopped green chillies and add this seasoning to the above batter .
Now mix the batter thoroughly with liberal quantity of water .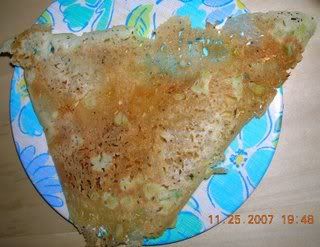 The batter is ready to use. Use a nonstick pan without depression and literally throw the watery batter over the hot tava(pan). Pour a spoon of oil around ends and let it become crisp for about 5 to 6 minutes.Crisp , Paper like Rava Dosa is ready to be served with coconut chutney...
It takes a few tries but it is very easy with the right technique
Mysore Masala Dose
I got this recipe from my Sister In law and it works always..... I always had thought that I cannot make crispy,golden brown dosas without a grinder but then this worked ...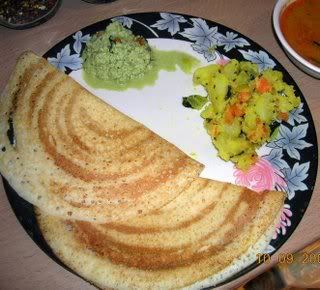 Ingredients:
3 cups of Rice
1 cup of urad dal ( uddina bele,split black gram)
1 spoon Methi ( mentye , fenugreek seeds)
4 spoons of Tuvar dal ( togari bele, yellow lentils)
1 spoon of riceflakes ( avalakki)
Soak the rice separately and the rest of the ingredients with the urad dal for about 6 to 8 hours..Grind them separately and mix them with salt to taste and leave it to ferment in a warm place about 10 to 12 hours..
Next day the batter is ready to make crispy dosas... the variations can be done by using more of riceflakes and eliminating tuvar dal to give a soft texture...
These are for today......will be back tomorrow with pesarattu and Adai.....